Additional Information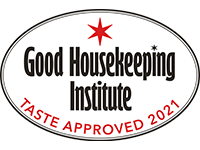 Nutrition Info
How to cook
Oven cook From Ambient
Can be enjoyed hot or cold. Cooking appliances vary. These instructions are given as a guide. Electric 160°C, Gas Mark 3, Time 8-10 mins 1. Preheat oven to temperature indicated. 2. Remove outer packaging leaving pies in foil. 3. Place on a baking tray in the centre of the oven and cook for 8-10 minutes. 4. Allow to stand for 2 minutes. 5. Remove foils from pies and serve. Warning: The mincemeat filling in the pies will be extremely hot.
Ingredients
Mincemeat (45%) (Sugar, Dried Vine Fruits (38%) (Sultanas, Raisins, Currants), Apple Puree, Glucose Syrup, Mixed Peel (Glucose-Fructose Syrup, Orange Peel, Lemon Peel, Acidity Regulator: Citric Acid; Preservative: Sulphur Dioxide), Vegetable Suet (Palm Oil, Rice Flour, Sunflower Oil), Mixed Spice, Cinnamon, Acidity Regulator: Acetic Acid; Treacle, Orange Oil), Rice Flour, Tapioca Starch, Vegetable Margarine (Palm Oil, Rapeseed Oil, Water, Emulsifier: Mono- and Diglycerides of Fatty Acids), Sugar, Brown Sugar, Ground Almonds, Salt, Thickener: Xanthan Gum
ALLERGY ADVICE: FOR ALLERGENS, SEE UNDERLINED INGREDIENTS IN BOLD
May contain: peanuts
Does not contain: gluten, milk, wheat
Additional Info
Crisp sweet pastry pies filled with rich mincemeat and sprinkled with a light dusting of sugar. Gluten, wheat & milk free. Suitable for vegans and coeliacs. We Love Cake.
Dietary Information
Suitable for Coeliacs, Suitable for Vegans
Manufacturers Address
Bells of Lazonby Ltd.,Edenholme Bakery,Lazonby,Penrith,Cumbria,CA10 1BG.
Return to
Bells of Lazonby Ltd.,Edenholme Bakery,Lazonby,Penrith,Cumbria,CA10 1BG.www.we-love-cake.co.uk
Package type
Box
A note about our product information
A note about products info
We have done everything we can to ensure that the information we provide about all the products listed on this website is accurate and up-to-date. However, food products in particular are constantly being improved so their ingredients and the other information we publish here, including details of their nutritional content and allergy advice, is liable to change. For this reason, we strongly recommend that you always read the actual product label carefully before using or consuming any product. Please do not rely solely on the information provided on this website.
Customer Reviews
(7 customer reviews)
Submitted by Yvonne Greenwood on 27/12/2020
The best mince pies I have tasted! Wonderful warmed up in the microwave with cream, as another review said and I quite agree! They are just the right size, well filled, and totally yummy! The pastry is delicious! I'm pleased to see that they are still in stock, so I shall order some more. Yippee!
Submitted by Iceland Customer on 13/12/2020
CAN ICELAND PLEASE DO GLUTEN FREE MINCE PIES WITH OUT NUTS. VERY ALLERGIC TO ALL FORMS OF NUTS. ALSO A CHRISTMAS CAKE WITH OUT NUTS.
Submitted by Iceland Customer on 11/11/2020
Best brought gluten free mince pies I've had. Warm them up in the microwave and have with double cream . Ideal for a nice treat. Iceland please stock some gluten free staples.
Submitted by Iceland Customer on 27/10/2020
absolutely cheap & nasty , hard & stail , literally laced in sprinkled sugar, disgusting for the price .
Submitted by Ambrosia on 6/12/2017
I was quite impressed when Iceland Foods introduced this product, leaving favourable reviews on their facebook and that of the manufacturer. Prior to this, I skipped the mince pie offerings from other retailers as £2 to £2.50 for four pies that were not just edible was a waste of the food budget. Now I have more than one box. The pie is delicious heated and with a scoop of dairy free ice cream it makes a delicious dessert
Submitted by Anne Hughes on 30/11/2015
Too sweet for me but I don't like sweet foods. However the pastry is good and I think they deserve 5 stars for being a tasty substitute for people that can't eat wheat.
Submitted by Cass on 25/11/2015
I found these to be quite hard and much too sweet.
---
Nutrition Info
---
Ingredients
Mincemeat (45%) (Sugar, Dried Vine Fruits (38%) (Sultanas, Raisins, Currants), Apple Puree, Glucose Syrup, Mixed Peel (Glucose-Fructose Syrup, Orange Peel, Lemon Peel, Acidity Regulator: Citric Acid; Preservative: Sulphur Dioxide), Vegetable Suet (Palm Oil, Rice Flour, Sunflower Oil), Mixed Spice, Cinnamon, Acidity Regulator: Acetic Acid; Treacle, Orange Oil), Rice Flour, Tapioca Starch, Vegetable Margarine (Palm Oil, Rapeseed Oil, Water, Emulsifier: Mono- and Diglycerides of Fatty Acids), Sugar, Brown Sugar, Ground Almonds, Salt, Thickener: Xanthan Gum
ALLERGY ADVICE: FOR ALLERGENS, SEE UNDERLINED INGREDIENTS IN BOLD
May contain: peanuts
Does not contain: gluten, milk, wheat