Additional Information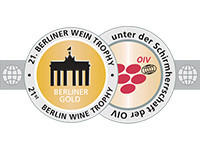 The Metro – 'This fizz is a credible champagne substitute with fine orange-blossom bubbles. With strong Kir Royale potential, getting change from a tenner never tasted so good.'
Ingredients
ALLERGY ADVICE: FOR ALLERGENS, SEE UNDERLINED INGREDIENTS IN BOLD
Additional Info
Since the 17th century, the large De La Rougerie family has been producing exceptional wines to the reputation affirmed in the world. Maison de la Rougerie Crémant de Bordeaux is made by traditional method. It offers fine bubbles and light yellow color, with white fruit flavours. Serve around 10°C, it will partner well with salads, seafood or dessert.. Wine of France. 23rd Berlin Wine Trophy - 2019 Berliner Gold. Under the patronage of the OIV. Maison de la Rougerie.
Manufacturers Address
SAS Benoit Valerie Calvet, 44 Avenue de Labarde, 33290 Parempuyre.
Return to
SAS Benoit Valerie Calvet, 44 Avenue de Labarde, 33290 Parempuyre. www.maisondelarougerie.fr
Package type
Bottle
Alcohol Volume
12.00%
Alcohol Units
9.00
A note about our product information
A note about products info
We have done everything we can to ensure that the information we provide about all the products listed on this website is accurate and up-to-date. However, food products in particular are constantly being improved so their ingredients and the other information we publish here, including details of their nutritional content and allergy advice, is liable to change. For this reason, we strongly recommend that you always read the actual product label carefully before using or consuming any product. Please do not rely solely on the information provided on this website.
Customer Reviews
(2 customer reviews)
Submitted by Iceland Customer on 13/8/2021
Very nice indeed - have been buying it throughout the summer
Submitted by Selina on 28/1/2021
Delicious Sparkling wine - if you prefer a Cava to a Prosecco you have to try this.. it's really crisp but not too dry & really a great alternative to champagne & 1/3 of the price - give it a try !
---
Ingredients
ALLERGY ADVICE: FOR ALLERGENS, SEE UNDERLINED INGREDIENTS IN BOLD